Everyone's favourite children's author has also written surprisingly dark and morbid short stories for adults. Here's an introduction to some selected stories, but be warned, they are quite unnerving!
The Landlady
Source: http://po.st/ckVMBS
You'll never feel comfortable in a B&B ever again after this story! Here's how it goes…
17-year-old Billy Weaver is travelling from London to Bath for business. On the way, he stumbles across a charming bed and breakfast and decides to stay for a night. The landlady is most welcoming, telling him she's been expecting him, which Weaver finds a bit odd. She offers him some tea and as the night draws on, little details like the decor, her conversation and the lack of guests will lead you to suspect that something's not quite right with her.
"'And it is such a pleasure, my dear, such a very great pleasure when now and again I open the door and I see someone standing there who is just exactly right.' … 'Like you,' she added, and her blue eyes travelled slowly all the way down the length of Billy's body, to his feet, and then up again.'"
Lamb to the Slaughter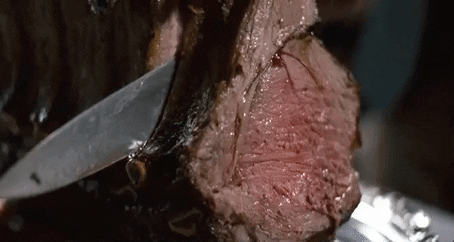 Source: https://gph.is/2u6wJ9R
One day, Dahl's friend Ian Fleming said: "Why don't you have someone murder their husband with a frozen leg of mutton which she then serves to the detectives who come to investigate the murder?"
Yup, that's how Lamb to the Slaughter was born.

Mary Maloney, a pregnant and devoted housewife, suddenly finds out that her husband Patrick wants to split up with her. Seemingly in a trance, Mary fetches the large leg of lamb she was going to use for dinner and strikes Patrick in the back of the head, killing him instantly. Mary realises that Patrick is dead and begins, rather coldly and practically, to ponder what must happen now.
"The violence of the crash, the noise, the small table overturning, helped to bring her out of the shock. She came out slowly, feeling cold and surprised, and she stood for a few minutes, looking at the body, still holding the piece of meat tightly with both hands."
The Way Up to Heaven
If you're someone who has a partner who perpetually makes you late, this dark short story is for you.
Source: https://imgflip.com/i/1j9wd9

Mrs Foster is a submissive wife who has a fear of missing trains and planes. She suspects that her husband purposely aggravates her by always making her wait to leave the house at the last second. Mrs Foster is now preparing for a long-awaited six-week trip to Paris, after weeks of persuading her husband to let her go. Her trip to the airport gets frantic as she is forced to run all sorts of unnecessary errands for her husband and is once again made to wait anxiously for him. This time, he's gone too far.
"There was no longer that rather soft and silly look. A peculiar hardness had settled itself upon the features. The little mouth, usually so flabby, was now tight and thin, the eyes were bright, and the voice, when she spoke, carried a new note of authority."
Skin
We all know that paintings by famous artists are worth a hefty price. But what if a famous artist created a tattoo? How much would that be worth, and how do you value human skin?

Source: http://po.st/Gz2XM1
An old beggar named Drioli walks by an art gallery and stops to admire a painting in the window. He suddenly recognizes the name of the artist, Chiam Soutine—an old friend who happened to have created a tattoo on Drioli's back one drunken night in the past. He then enters the gallery and shows the crowd his incredible tattoo, and the crowd starts to make bids and strange, disturbing proposals to obtain the artwork.

"'Ah, where will I keep it? Yes, where will I keep it? Well, now … It would seem,' he said, 'that if I
take the picture, I take you also. That is a disadvantage. The picture itself is of no value until you are dead. How old are you, my friend?'
'Sixty-one.'
'But you are perhaps not very healthy, no?' The dealer looked Drioli up and down, slowly, like a
farmer examining an old horse."
Do these stories sound like your cup of tea? They can all be found in Roald Dahl's Tales of the Unexpected.

For even more stories, check out his other morbid compilations: