Manga and science fiction can take you on journeys to galaxies far and wide. Today, we'll be recommending some of the best sci-fi manga that you can borrow from our libraries!
Neon Genesis Evangelion
Source: http://po.st/ys67ha
First up is Neon Genesis Evangelion, which is a long-running manga series by Yoshiyuki Sadamoto. Here's how the story goes.
It's 2015, and Earth comes under attack by alien war machines called Angels. To stop them, humans created combat robots, which can only be piloted by a few select teenagers (because the robots are infused with their mothers' souls). The manga follows these teenagers as they are thrust into battles that they do not understand, with the fate of humanity resting in their hands.
With flawed characters, a pessimistic view of humanity, religious undertones and a redeeming focus on our will to live, the story becomes complex and exciting to summarise. Interested? Borrow the first volume here.
Eden: It's an Endless World
Source: http://po.st/eNn9Ew
Next up is Eden: It's an Endless World! by Hiroki Endo. It is set in the near future, following a pandemic which killed 15% of the world's population and crippled much more. An organisation called Propater topples the UN to seize control of the world.
The story follows Elijah Ballard as he journeys to save his sister who was kidnapped by the Propater federation. Along the way, he encounters characters struggling to survive in a post-apocalyptic dystopian world.
Reading this manga will take you to a world that feels incredibly realistic, both in the detailed story progression and the beautiful art. With 18 volumes packed with sci-fi excitement, this is a manga not to be missed! Check them out at Kinokuniya.
Sword Art Online
Source: http://po.st/Jm3B3a
Next, we step into the gaming world of Sword Art Online — a very popular series by Reki Kawahara.
In 2022, a multiplayer virtual reality game called Sword Art Online is released. To play this game, users wear NerveGear, which is a helmet that can stimulate your five senses, ultimately allowing people to be fully and realistically immersed in the game.
When the game goes live, the 'lucky' first players log in and start the game only to realise that they are unable to log out! The story follows protagonist Kirito as he tries to complete the game to free everyone. Read more here.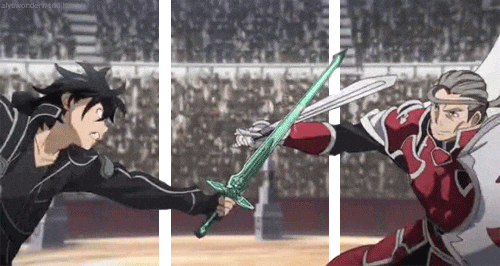 Source: https://gph.is/YBqZ2q
20th Century Boys
Source: http://po.st/fBwSTR
20th Century Boys is a sci-fi tale by Naoki Urasawa. The manga series has won numerous awards and remains to be widely popular.
A group of young children create a comic book together, where they write a plan for how the world will be destroyed. When they become adults, they realise that the very same plan is being carried out by a mysterious cult.
What's the explanation behind it all? This mystery remains completely unsolvable until the very end.
Urasawa's seamless storytelling, diverse characters, gripping action sequences and dynamic draughtsmanship makes this a must-read manga. Read the very first volume here.
Can't get enough? Here's a quick list of more of our favourite sci-fi manga. Enjoy!
Astro Boy

, Osamu Tezuka

Stein's Gate

, Yomi Sarachi

Blame!

, Yuichi Nonaka

Btooom!

, Junya Inoue

Gantz

, Hiroya Oku