Ahoy maties! Everyone knows pirates make the most entertaining characters and embark on the most exciting voyages. So today, we shall set sail for the seven seas with our favourite pirates from literature.
Long John Silver from Treasure Island, by Robert Louis Stevenson

Source: http://po.st/AChlcm
You know the name, you've eaten at the fast food joint, but how much do you actually know about the legendary Long John Silver?
Long John Silver is the main antagonist in Treasure Island. The one-legged seaman with a talking parrot on his shoulder is the ultimate pirate icon, greatly influencing the image of pirates in popular culture today.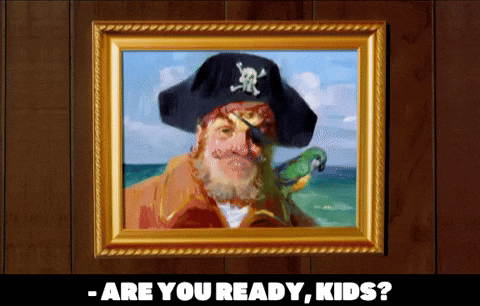 Source: http://po.st/SfivQ7
Charismatic, hardworking and likeable, Silver serves as a mentor-like figure to the protagonist Jim Hawkins on their expedition to hunt for buried treasure. However, as the story moves on, Silver's true deceitful and malicious nature starts to be revealed. He's one of those villains you'll love to hate.
Jack Shandy from On Stranger Tides, by Tim Powers
Yes, this book was loosely adapted to one of the Pirates of the Caribbean movies. However, our protagonist in the book, Jack Shandy, is a very different pirate from Jack Sparrow.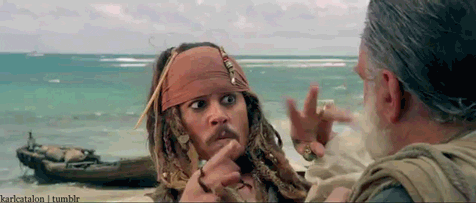 Source: http://gph.is/Z0wbfC
What makes Jack Shandy so cool is the fact that he is often dropped into circumstances beyond his control and always manages to adapt and thrive. For instance, he was originally a puppeteer on a personal revenge mission until one day, he gets captured by pirates and is forced to join them. Despite that, he learns to fight and survive, and gradually rises through the ranks.
His strength, heroism and even puppeteer skills are put to the test on their voyage to the fabled Fountain of Youth, and again as he comes face to face with the deadly pirate Blackbeard.
Sophie Hansa from Child of a Hidden Sea, by A.M. Dellamonica

Source: http://po.st/C61FVH
Unfortunately, it's not often you find women pirates in literature, but Sophie Hansa is certainly a force to be reckoned with!
Set in modern times, our hero is Sophie from San Francisco—a sympathetic and genuine woman with a personal mission to track down her birth mother. But when she finally does, she finds herself transported into a strange alternate world called Stormwrack.
It seems that she was born of this world, and with her experience as a diver, her knowledge as a marine biologist and the help of a newfound family, ship and crew, she embarks on an incredible journey to unravel the mystery of her lineage.
Do you have a favourite pirate that we've missed out?